The National Farmers' Federation supports the introduction of a dedicated Agriculture Visa
The Australian agriculture sector is an economic powerhouse with huge potential for expansion, but the rate at which the sector is able to grow and prosper depends largely on its ability to overcome serious, chronic labour shortages.
To provide a stable and sustainable workforce for agriculture that is fair and equitable for both workers and employers, the NFF supports the introduction of a Dedicated Agricultural Visa program.
To read more about the NFF's position on a Dedicated Agriculture Visa (Ag Visa), click here: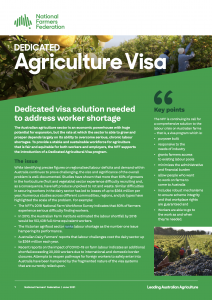 Studies have shown over 60% of growers in the horticulture (fruit and vegetable) sector experience difficulty recruiting and, as a consequence, have left produce unpicked to rot and waste. Similar difficulties in securing workers in the dairy sector has led to losses of up to $364 million per year. Numerous studies across different commodities, regions, and job types have highlighted the scale of the problem.
The consequence of failing to implement an appropriate visa solution is that the supply of food and fibre products produced by Australian farms will be constricted and prices for everyday Australians will go up.
Principles for a dedicated Agriculture Visa
The NFF's proposal for an agricultural visa is built around five core principles:
Further Reading
To read the latest Agriculture Visa media release,
click here
.