Western Australian Premier, Mark McGowan and Agriculture, Regional Development & Food Minister, Alannah MacTiernan were special guests at the WAFarmers and National Farmers' Federation's Towards 2030 forum in Northam today.
The event brought together farming and regional leaders to take stock of progress towards the shared goal of reaching $100 billion in farmgate output by 2030 and was Day 1 of WAFarmers Livestock and Grains Forum: Invest, Innovate, Inspire.

"We were delighted to have Premier McGowan and Minister MacTiernan join the conversation about the very bright future of Australian agriculture and in particular the role of Western Australia's farm sector in the $100 billion by 2030 goal," NFF CEO Tony Mahar said.
Premier McGowan officially opened the forum while Minister McTiernan addressed the more than 150-strong gathering outlining what the WA Government was doing to support the state's second largest economic contributor.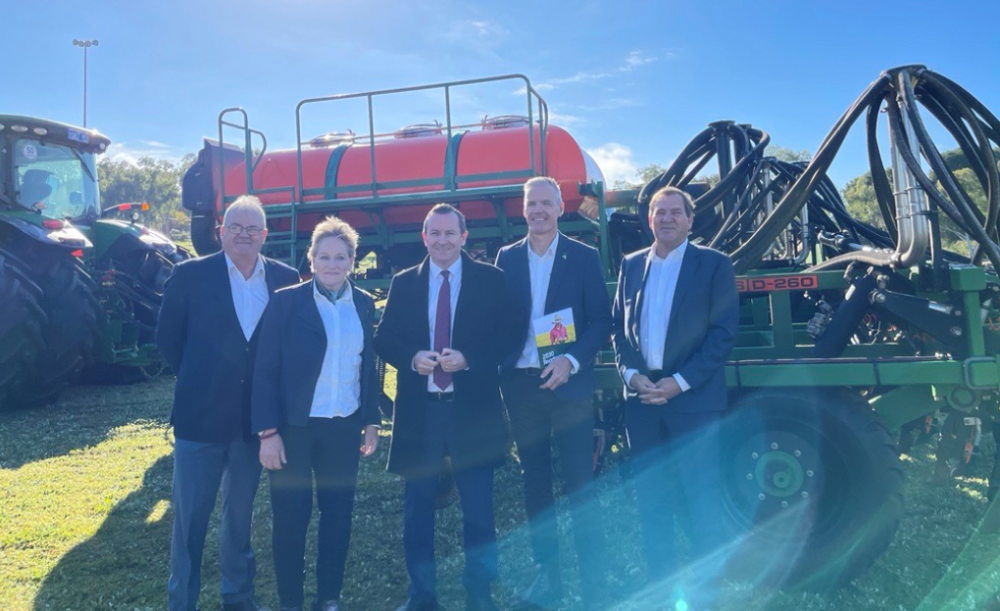 From left: WAFarmers President John Hassell, WA Agriculture Minister Alannah MacTeirnan, WA Premier, Mark McGowan, NFF CEO Tony Mahar and MLC for the WA Agricultural Region, Darren West.
Keynote speakers spoke to the 2030 Roadmap, NFF's plan for achieving $100 billion and included experts such as Department of Primary Industries and Regional Development, Chief Economist Professor Ross Kingwell; Federal Department of Agriculture, Water & the Environment, First Assistant Secretary, Joanna Stanion and Telstra Group Executive Kim Krogh Andersen.
The NFF's Towards 2030 forums, held across the country and supported by Telstra, continue to drive discussion about promoting investment, agricultural development and strengthening farming.
"Western Australia, an agricultural powerhouse, will have an extremely important role to play in achieving the $100 billion target by 2030," Mr Mahar said.
"The 2030 goal of $100 billion in farm-gate output is an ambitious one. The Towards 2030 Forum in Northam today, in partnership with WAFarmers provided a great opportunity to reflect on our progress to this goal and drive the policy debate to ensure we meet and beat the goal in 2030."
WAFarmers CEO, Trevor Whittington said the organisation was pleased the Premier made the effort to travel to the wheatbelt to open the forum.

"The tag line of our forum is Invest, Innovate and Inspire, as we see huge opportunities with the future prospects of agriculture and food," he said.

"WAFarmers was glad to see the state government engage our key stakeholders and other industry officials at the event," Mr Whittington said.