The Australian Farm Data Code aims to promote adoption of digital technology, by ensuring that farmers have comfort in how their data is used, shared and managed.
The Australian Farm Data Code (the Code) was developed and adopted by the National Farmers' Federation in consultation with industry.
The Code is intended to inform the data management policies of service providers who manage data on behalf of farmers. It is also a yardstick by which farmers can evaluate the policies of those providers.
Benefits to farmers include:
increased awareness and understanding of the ways in which providers are collecting, using and sharing their farm data;
a framework to compare providers and inform negotiations about data policies; and,
improvements to industry-wide data practices over time.
Benefits for service providers include:
clear and agreed guidance on data policies; and,
a helpful framework to inform discussions with farmers about data.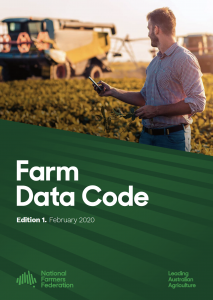 Development of the Code
The Farm Data Code was developed National Farmers' Federation's Farm Data Working Group – bringing together farmers, researchers and agricultural technology providers.
Members of the Farm Data Working Group include:
Andrea Koch, DigiSoil (Chair)
Adrian Roles, NSW Farmers
Ben Kelly, John Deere
Cameron Scadding, Source Certain
Charles Thomas, National Farmers' Federation
Hamish Munro, Pairtree Intelligence
Irene Sobotta, MLA Integrity Systems
Leanne Wiseman, Griffith University
Leighton Wilksch, AgByte
Meredith Conaty, CRDC
Nick Bryant, Agratel
Oli Madgett, Platfarm
Peter Leonard, UNSW
Peter Thompson, Echo Farm
Phillip Guthrie, Nine Creeks Consulting
Richard Heath, Australian Farm Institute
Robert Bramley, CSIRO
Robert Davies, Telstra
Next steps
Following its initial release, the Code will be subject to regular reviews, in order to adapt to industry changes.
The Working Group is now exploring certification models to improve the Code's uptake and impact.
The NFF welcomes feedback on the Code at any time. Simply contact us to have your say.