The Australian Farm Data Code aims to promote adoption of digital technology, by ensuring that farmers have comfort in how their data is used, shared and managed.
The Australian Farm Data Code (the Code) was developed and adopted by the National Farmers' Federation in consultation with industry.
The Code is intended to inform the policies of service providers who manage data on behalf of farmers. It is also a yardstick by which farmers can evaluate the policies of those providers.
Benefits to farmers include:
increased awareness and understanding of the ways in which providers are collecting, using and sharing their farm data;
a framework to compare providers and inform negotiations about data policies; and,
improvements to industry-wide data practices over time.
Benefits for service providers include:
clear and agreed guidance on data policies; and,
a helpful framework to inform discussions with farmers about data.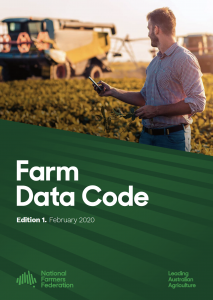 Development of the Code
The Farm Data Code was developed National Farmers' Federation's Farm Data Working Group – bringing together farmers, researchers and agricultural technology providers.
Members of the Farm Data Working Group include:
Andrea Koch, Andrea Koch Agtech (Chair)
Phil Lavers, NSW Farmers
Chris Sounness, Wimmera Development Association
Emma Weston, AgriDigital
Warren Jennings, Telstra
Jay Sanderson, University of the Sunshine Coast
Leanne Wiseman, Griffith University
Leighton Wilksch, AgByte
Mark Pawsey, Proagrica
Nick Bryant, Farmers Edge
Richard Heath, Australian Farm Institute
Tony Murray, Council or Rural Research and Development Corporations
Ben van Delden, KPMG
Next steps
Following its initial release, the code will be subject to two 6-monthly reviews, before continuing in a biennial review cycle.
The Working Group is now exploring certification or accreditation models to improve the Code's uptake and impact.
The NFF welcomes feedback on the code at any time. Simply contact us to have your say.